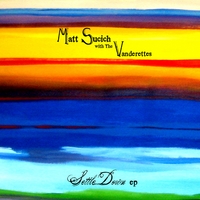 The Southern Bureau's 2009
Mets
season preview is brought to you by the official house band of 200 Miles From the
Citi
-
Matt

Sucich

with the

Vanderettes
.
HARMONIUM
- The new
Citi
Field is probably going with
pre
recorded rock music and not the traditional ballpark organ music, but that's not what really matters. How will the new
Citi
Field play? Will it favor hitters or pitchers? Having seen some of it on
tv
yesterday - the large wall in left field made it feel like a pitchers park - but with Oliver Perez pitching, it was still
6-0 Red

Sox

in the first inning
. So who knows? But I'm wondering how quickly it will take the
Mets
and Jerry Manual to adjust to the new digs. Could possibly set the
Mets
back a few games.
...AND LOVE
- ....and hate. Didn't take long for
Mets
fans to turn on this team. In that same article in the previous paragraph it reports that the
Citi
Field
faithful
are already in September
boo'ing
mood. Perez was
boo'd
off the mound (as well he should have been). But I think that could be a big factor with this year's team - how long will the fans believe? They're obviously gun shy - and rightfully so. The last two seasons have been pretty heartbreaking - you only need to read
Johnnymets
to know that (see
2007
and
2008
). While every Met fan does love their team, a slow start could ruin the confidence of the fans and lead to a summer full of empty seats at
Citi
Field.
STUPID OUTFITS
- We've been over the
sleeve patch
, but I'm happy to see the
Mets
have
gotten rid of their black alternate uniforms
. The Southern Bureau hates alternate uniforms - always feels like a slow pitch softball uniform to me.
ALL TIME GREATEST
- Yeah...we're all looking at you,
David Wright
(maybe not in that picture). Its your year to step up and win something. Individually - you're great. I've been in two fantasy baseball drafts this year, and you went first in one, second in the other. I'm sure there are dad's in Queens right now trying to convince their wife to let them name their newborn "David" or "Wright". But at some point, you've gotta win a big game. You're probably already one of the Top 20 players in
Mets
history (maybe not -
Johnnymets
or
Daddymets
could probably correct me), so its time to make that next step.
SETTLE DOWN
- As
Johnnymets

pointed out
in a recent post, Sports Illustrated believes the
Mets
are winning the World Series. Not good. Sports Illustrated has a habit of doing this - and its never works out well for anyone - especially the team they pick.
As a Red
Sox
fan who sat through several years of "The Red
Sox
will win it all" issues from Sports Illustrated, its not fun. On the left - that's the 2000 Preview. The title:
Why the Red

Sox

Will Win the World Series (Really!)
Turns out: not really. They finished 85-77 and didn't make the playoffs.
To be fair to the cover boy, it wasn't Pedro's* fault. He won the Cy Young and finished 5
th
in MVP voting.
Anyways - before we all get too excited about Sports Illustrated, lets all settle down and realize they really don't know much more than anyone else.
NEW YORK IN THE FALL
- But with that all said, hopes should be high for some October baseball in
Citi
Field. They have a much improved bullpen, a great lineup top to bottom, an ace in their pitching staff, and a pretty good manager. Perhaps this is the year the
Mets
can finally get over the hump.
So will we see playoff baseball in New York in the Fall? I think it all falls on starting pitching. If they can get good starts from #2-#5 in the rotation, they'll be there. If not, it will be a long year with no playoffs at all.
- SB